Central MD Curling Championships report
It was held by the nine teams in Karuizawa Ice Park in 2015 December 22-23 days "9th Central Mixed Doubles Curling Championship1 team from Niigata has competed in. "。
this time、Alone participation of one team from Niigata。It fared well among such、Gave us enjoyed magnificent performance。ICE CUBE pair、Thank you for your hard work。Tournament participation in outside the prefecture, but the 4-person has been gradually increasing number of team、Mixed Doubles seems still low。Here also we want to increase the more the number of participating teams in the future。Mixed Doubles There are different charm and 4-person。Also in the sense to extend the enjoyment of curling、It is the competition that I want to challenge all means many people。
● qualifying league first game Aichi KTY12 (Aichi) battle 9-0 win!
● Qualifying League second match Orion (Nagano) battle 2-7 defeated
● playoff T2 round goblet in Aichi chrysanthemum (Aichi) battle? -? Defeated
● 6-place playoff Togo ranch (Aichi) battle 7-4 win! Result、Sixth place!
(the following、Participants talk)
We are now very good experience


In the first MD Championships in Nagano、We were well in Aichi of everyone


I would like to then take advantage of this experience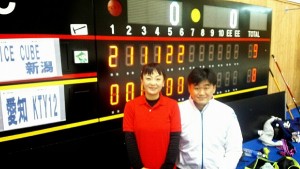 ********************************
This year the Association of practice、It became once more a place to leave。personally、Last long is I want to decide Bishitsu。So as not to you also regrets、Please fully spear firmly。
In、A nice Christmas!